Welcome to
Stafford Spiritualist Church
OUR SERVICES
We hold our Services in our Church on Sundays and Wednesdays.
LEARN MORE
Find out about our next Services, and who our guest mediums will be..
LEARN MORE
Want to find out more about Spiritualism and how you can get involved?
UPCOMING EVENTS
Take a look at what events we having coming up in our Calendar..
LEARN MORE
Our Events include: Services, Special Guest Events, Workshops, Healing and more..
The Stafford Spiritualist Church was founded in 1992, by Minnie Ellis and Geraldine Madden. The church met in the Labour Conference Rooms on the Wolverhampton Road then later the church moved to Meryck Road, then again to the St John Ambulance Hall in Stafford. Attendance at the Sunday services soon began to rise and regularly attracted around fifty people and plans were then put in place to set up a spiritual healing group. On the 27th of November 1999 the church moved to the David Jones Centre, now newly named The Arthur Findlay Centre.
Stafford Spiritualist Church is affiliated to the Spiritualist National Union which promotes knowledge of the religion and philosophy of spiritualism. It unites Spiritualists throughout the world and supports 350 Churches in the United Kingdom. It is estimated that about 40,000 members of Churches attend spiritualist services every week. There are 29 Churches in the West Midlands which are listed on the SNU West Midlands website.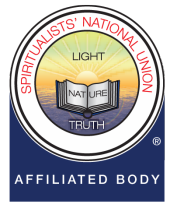 The Seven Principles
(Click to expand each one)